This year we are standing in  front of a longterm media paradigm shift towards Virtual-Reality

… it will certainly need some years to establish globally but on that way many $ billions will be spend in hardware and software. Soon we will enjoy mobile and wireless VR gear with all trackers connected to our senses.

The first step to understanding and appreciation will be the "virtual realistic 360 degree" experience – Thats the upcoming addon-keyword!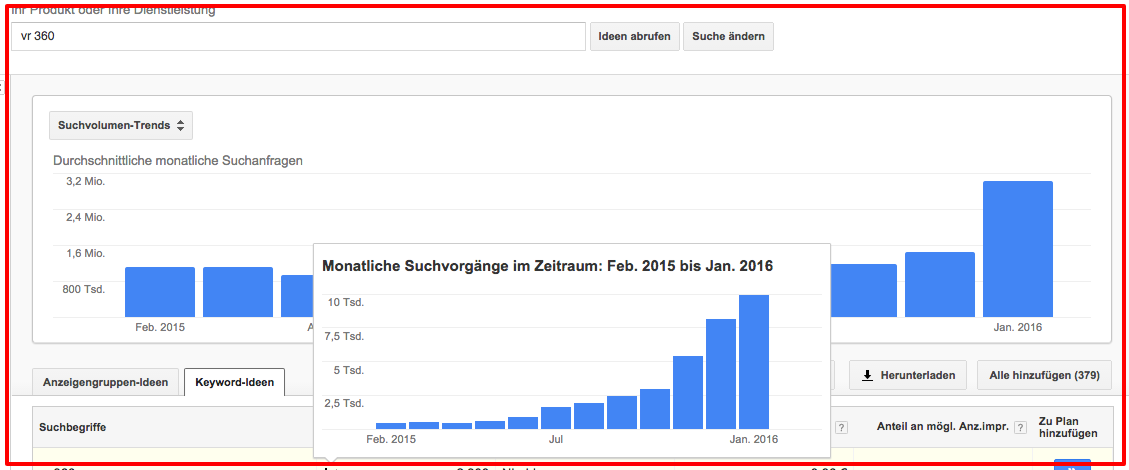 For now the early adopters are just testing the first deliveries of VR headsets like Oculus Rift, HTC Valve or Samsung VR…. and of course several types of

360 degree cameras that will enable the mass consumer market for the first time to easily create and publish their own immersive contents

. Contrary to the old 3D effected movies the new VR 360° contents enable the viewer to actively move around and really enter the scene – This new 360° experience will boost the VR mass market enthusiasm
Its our definite opinion that "VR360" will be the perfect intermediate searchphrase on the way to the Virtual Reality massmarket, which will be one day signalized by the standalone "VR" attribute. Right now to start into the new virtual reality adventures the basic gears like VR360 cams and VR360 headset are needed the most.
Cams360VR.com

VR360Headset.com

Für den deutschen Virtual Reality Ausrüstermarkt bieten wir mehrere Keyword Domains an, die insbesondere jetzt zum Start eine besondere Rolle als Bestseller spielen werden.
VR360cam.de

VrRig.de

VrRift.de

≈ Have a look at the bigger Portfolio with AR and VR domains ≈