Art Authentication/ Authorization:
Lets get this milestone done after decades in the foggy status quo. Too many experts, registries, boards and foundations have failed already. But today we have intelligent tech at hand to combine data, forensics and connoisseurship for supplying best effort trustlabels.
Since a few years a number of new ambitious and innovative Art Auth initiatives with different focal points have entered the market. Some of which are still pleasing the VIP circle, but w

e invite experts into the ArtAuth thinktank for combined forces serving millions of Members and providing a steady share of voice in the media.
ArtAuth.com also has developed an entirely unique decentralised (permissioned) Artwork Authentication Billboard enabling Authorization of Intellectual Property issues enfin. Everything is based on Art Asset/ ID/ Object documentation with international standards –
But instead of Topdown CoA verdicts we prefer categorized bottomUp procedures as added Due Diligence

.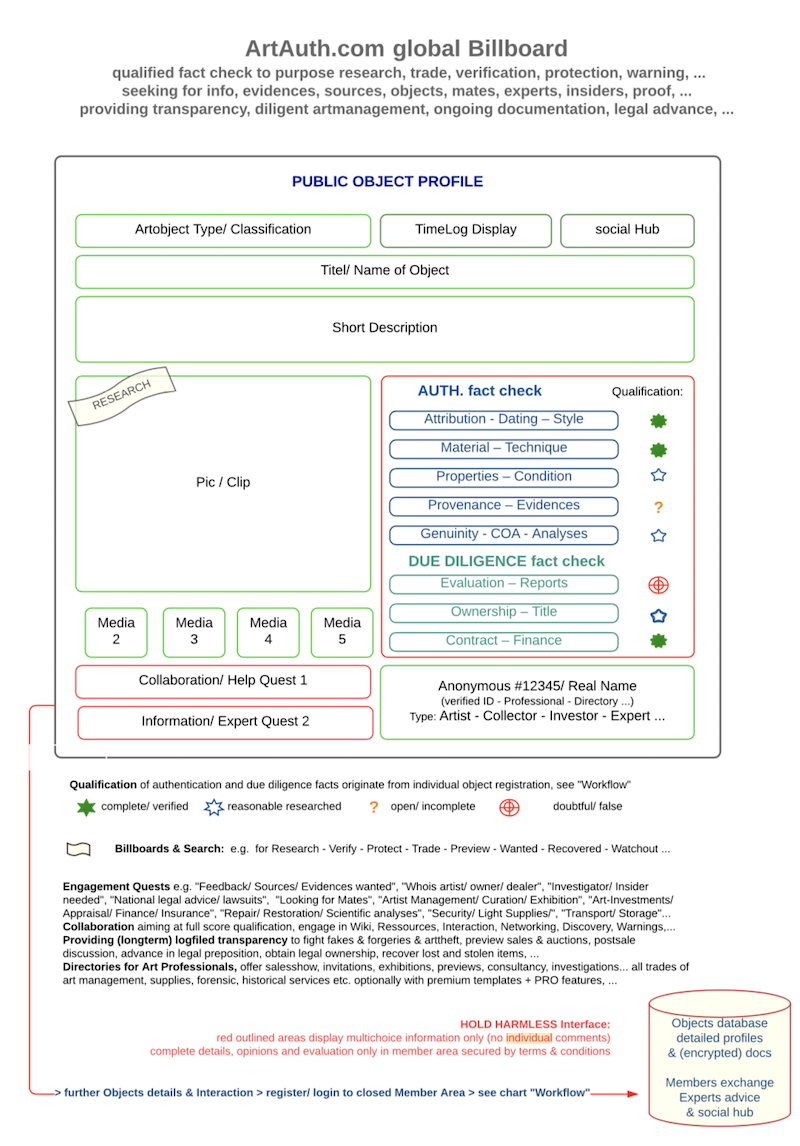 ArtAuth UX will enable Artists as well as Owners and Buyers to

diligently research, identify and protect, license traditional and digital Art Assets for the purpose of optimizing its value

– Experts and Scientists can use secured gateways and offer solutions en detail –

We offer legal advantages e.g. how to claim ownership and upscale art assets & antiquities with Due Diligence at any small chances!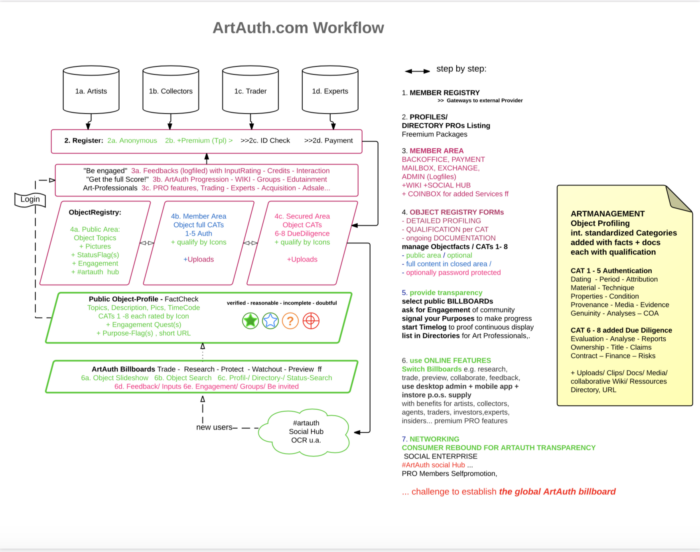 The drafted ArtAuth procedures are based on many team-years building legal expertise in Authenticity concerning lawsuits while observing global jurisdictions… We took all this knowledge into account developing a legally improved, global Art Authority Hub ready for the tokenized blockchain economy.
Please reach out to our team and lets discuss and focus on your questions: 

We are scanning the art market for passionate artmarket experts who are deeply committed in Art Authenticity to restablish GOOD FAITH art clearing at best ethical and fin|tech efforts. This service is a footprint challenge in Art History!
ArtAuth.com/ ArtAuth.de
ArtAuth.eth /ArtAuth.dao / ArtAuth.nft/ 
addons: Twitter/ Instagram accounts @artauth 
Interested Partners are welcome to collaboratively launch a tokenized Art Asset Management enabling diligent Authenticity research, Ownership claiming, IP protection and licensing (undisclosed/KYC status). On top we have an access to incorporate the ArtAuth address network .
Get ArtAuth communication synched around the world. Global media coverage will facilitate synched communication with Artists, Collectors, Investors, Traders etc. around the world.