I bet, if you are an adult webmaster, you are scanning the VR porn business daily – One is for sure, virtual reality will generate new commercial challenges of making big money in the redlight area. I bet you will be the first heads up, at latest in Octobre 2016 some kind of VR adult entertainment will be virtually installed in your home!
But don`t loose your mind…! Better startup your own VR redlight district now and catch up the first mover advantages – A complete new spectrum of sex games, roleplays and multiplay porno experiences with panoramic 360° VR livesex will want to pump up your adult webmaster business – Millions of free minded netizens are waiting to enjoy the new VR Redlight adventures. They want erotic holodeck sceneries that unfold virtually around them … and you can charge them seats and bills while they actually stay at home sitting on the couch!




VrREDLIGHT.com – Now its time to be prepared for the big cake! 
With this domain you will be ahead of the crowd, managing the virtual reality Redlight area with interactive games and roleplays, with Clubs and Bars and swinging entertainment. Within the next years you will be offering commercial satisfaction of every color, soft or hardcore, indoor or outdoor, one, two or multiplay. Your online customers will just love it, the immersive Redlight enjoyment will suck all their attention … and all action is discretely hidden behind their VR devices…. Thats even more cool! They can stroll around your redlight center, step into brothels, nightclubs, liveshows … whatever will come next! I bet on you, you will be the digger!
The virtual reality sex entertainment will explode into a new dimension, starting from 2017. Until now not even the basic VRgear has been delivered around the globe, thats why the rocket has not even started! Xmas 2016 will be another important upshift, but starting with next year into a decade of VR innovations, the VR porn and redlight business challenges will be developed to the peak and the adult entertainment professionals of all trades will love the fat revenues.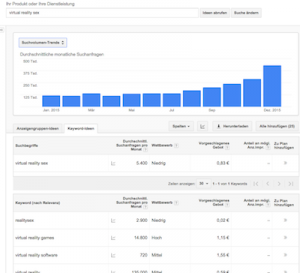 The new business model:
The future VR porn business is challenging a new era of "stay at home, but pay your bills (online)" entertainment which has no limits. Virtual reality content providers can charge their regular fees while the customer does not even show up. specially the funky spectrum of nightlive show, all sorts of kinky bordell and club entertainment and a deep throat of redlight professional seductionAdults around the world with sexually open minds will dive into something outrageous, the all around 360° erotic scenery. Any kind of virtual sex or porn, from a lovely VR 360 dating to enjoying individually created VR sexmods, from meeting openminded VR Swingers to multiple player porn games or maybe joining a VR Groupsex hardcore scenery, every kind or virtual reality porn will be available soon.
The new virtually enhanced porn experiences will provide so called "VR 360 degree movies" and also fully animated Virtual Reality which enables the user to configure the scene quite at will and create his very own individual sexdolls… VrRedlight customers will stay longer, will spend more money and they will never want to switch back to the desktop screen.
If you always wanted to manage your own Bordell Center, a hot Lapdance Bar, a private Escort Service or a kinky Nightclub… now its the best time to open the business in VR mode!  Switch on the red lights because millions of curious customers will soon pound on the door. Make longterm revenues in the virtual redlight zone with this storytelling and impactstrong keyword domain! 

Future VRPorn contents will exist in both worlds, one hand hand with millions of private and professional VR 360° filmed pornos and on the other hand with full immersive holodeck sex adventurs without any borders. All kind of redlight fantasy with private amateur dating and all sorts of professional seduction in fantasy worlds. We will see us in VR Redlight Center
≈ Portfolio Adult Domains ≈